$100 per 90 minutes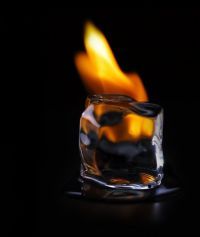 NEW!!! This massage features both Hot Stones and Cold Stones for the body. Start with a cold stone facial massage to minimize pores and reduce swellng and inflamation. Next, enjoy cold Himalayan Salt Stones on the arms and legs which alkalize and help aid in detoxifying and exfoliating. Then, hot stones are used on the feet and the back for ultimate warmth and muscle relaxation.

$65 per 60 minutes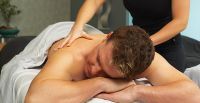 This massage is a very relaxing and therapeutic style of bodywork. By combining oils or lotion with an array of strokes such as rolling, kneading, and percussion to help the body improve its circulation, you will relax and unwind. The benefits of this type of bodywork are wide-ranging and include relief from aches and pains, decreased stress levels in the body, enhanced mental clarity, improved appearance, and greater flexibility.... $85 for 90 minutes

$70 per 60 minutes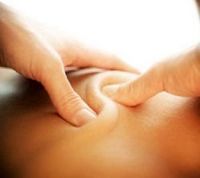 Deep Tissue Massage is a form of bodywork that aims to relieve tension in the deeper layers of tissue in the body. Deep Tissue Massage is a highly effective method for releasing chronic stress areas due to misalignment, repetitive motions, and past lingering injuries. Due to the nature of the deep tissue work, open communication during the session is crucial to make sure you don't get too uncomfortable. Keep in mind that soreness is pretty common after the treatment, and that plenty of water should be ingested to aid with the flushing and removal of toxins that will have been released from the deep tissue during the session.... $95 for 90 minutes

$75 per 60 minutes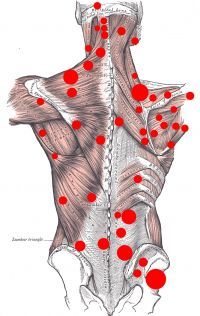 Trigger Point Therapy is a style of bodywork that focuses on stimulating and releasing "trigger points" in your body. Trigger points are tender areas of tension similar to acupressure points, except they occur in the belly of the muscle rather than along the energy pathways of the body. These "knots" are built up throughout a person's life due to physical, mental, and/or emotional stress. During a session, focused pressure is applied through a variety of techniques order to release your trigger points. This process can be quite painful at times, yet the effects are lasting and profoundly transformative. $95 for 90 minutes

$95 per 90 minutes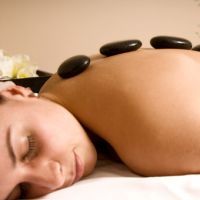 Hot Stone Therapy is a style of massage where heated stones are placed at specific sites on your body to deepen relaxation and promote circulation in your muscles. Muscles that are heated with these stones release tension and stress much more deeply and quickly than with a traditional massage. The overall experience is very relaxing, nurturing, and rejuvenating.... Add this service to JUST the BACK for $10 more with an hour or longer massage.

$95 per 90 minutes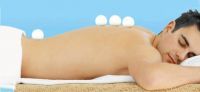 The On Par Golf Ball massage takes the deep-tissue experience to a new level when heated golf balls are applied to muscles along with deep-tissue massage techniques to melt away tension, stress and makes this massage par for the course!..... 60 minutes $75 ....or add to JUST the BACK for $10 more with an hour or longer massage.

$95 per 90 minutes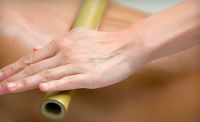 Warmed bamboo stalks of varying sizes and diameters are applied, along with deep tissue massage techniques, by kneading the muscles with the bamboo stalks. Not only does this sooth sore muscles, but it also increases circulation and aids in providing a sense of deep relaxation. Using special massage oils, the stalks are rolled evenly over the client's muscles, which is warming and relaxing. As a method of stress management, bamboo massage also can help with migraines, arthritis and respiratory problems.

$60 per 60 minutes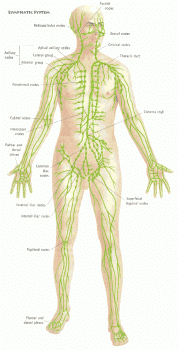 Lymphatic Drainage Massage aims to gently and rhythmically move the lymph through the body, especially swollen areas of the body, relieving pressure and enhancing the functioning of the immune system. As both a preventative and remedial technique, LD can be used for a wide range of purposes including faster recovery from injury, reduction of swelling and discomfort from pregnancy, and strengthened resistance to illness.

$60 per 60 minutes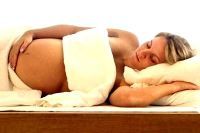 Pregnancy Massage (Pre-Natal Massage) is a style of bodywork designed specifically for pregnant women. Pregnancy is a time when a woman's body endures tremendous stress due to dramatic physical and emotional changes. Using various techniques specially developed for the expecting mother, Pregnancy Massage helps release the pain and discomfort experienced throughout pregnancy. The benefits are profound, including emotional support, the relief of joint pain due to extra weight and postural imbalance, and improved breathing and relaxation. Special bolsters and pillows are used to make the mother-to-be more comfortable when side-laying.

$80 per 75 minutes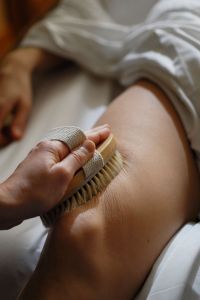 The Body Brush & Butter Massage: A body brush is used to gently exfoliate the skin, followed by a luxuriously moisturizing gentle massage with body butter. This is as gentle of a massage as a Lymphatic Drainage massage and is especially safe for expectant mothers or the elderly. Unique. Relaxing. Skin-softening. (Add a Sugar Scrub exfoliating treatment to your back to end this massasge for just $10 more!)

$40 per 30 minutes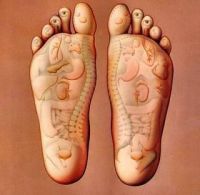 Reflexology is a type of bodywork that focuses on applying pressure to the specific nerve zones in your feet. Unlike other foot massages that intend to mostly relieve tension in the feet themselves, reflexology is a far more in-depth science that aims to harmonize your entire body. According to reflexology, every part of the human body is mapped into your feet. Reflexology treatments have been found to be highly effective for conditions such as allergies, headaches, and depression.

$15 per w/ an hour or longer massage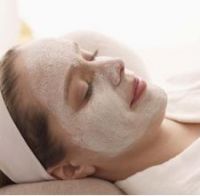 Why not treat yourself to a Facial Specialty Massage & Mask while enjoying your hour or longer massage? A massage for the face that is designed to tone, relieve sinus pressure or headaches, and relax is given, then your face is gently warmed with a wet towel, cleansed, toned, and a facial mask, tailored to your individual skin needs is administered and removed with warm, wet towels. Your face is then moisturized for maximum relaxation...Add cold stones to the facial massage for just $5 more!! -Note: This is NOT a full Esthetician-quality Facial with extractions, but more an intensive facial massage focusing on muscle toning and relaxation. Available ONLY with an hour or longer massage.

$30 per 30 minutes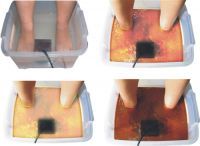 An ionic foot detox is a modern energy therapy device which balances the body's natural energy system. By introducing a high level of negative ions into the water of a foot bath, the feet, utilizing principles of reflexology and the science of ionization and osmosis, create a positive cellular environment and enable the body's natural detoxification processes to function at their peak. The colors of the individual's foot bath corresponds to the type of cellular toxins and debris and toxins that are drawn out of the feet by the process.

$25 per aprox 30 minutes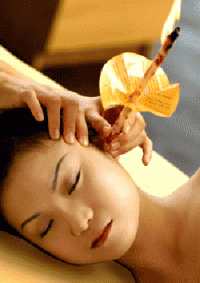 Ear candling is a safe, simple, non-invasive natural relaxing ear cleansing method, which uses hollow Ear candles to extract earwax and other debris from the ear canal. Proponents of this method say that ear candling improves mental clarity and balances fluids that may cause headaches and sinus pressure. Both ears are candled and debris are cleaned around the outside of the ear canal.

$10 per added to hour or longer massage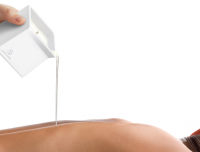 A special paraffin body-candle is warmed and used on the body. Your body will love this moisturizing and skin-softening treatment. Lots of scents to choose from!

$100 per 60 minutes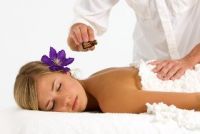 doTERRA's AromaTouch Technique Oil Application and Back Massage- Using doTERRA's Certified Pure Therapeutic Grade essential oils, The AromaTouch Technique incorporates simple hand techniques with the power of essential oils to create a powerful whole body wellness experience. It seeks to address four systemic constants that are present in daily life and which may serve as limiting factors in health: stress, immunity, the inflammatory response, and autonomic imbalance. The essential oils are applied to the back and then a relaxing back massage is added to this treatment for maximum relaxation and effectiveness.

$95 per 90 minutes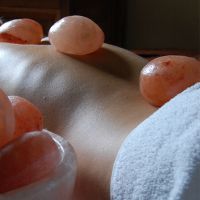 Himalayan Rose Salt Stone Massage- Himalayan Rose Salt Stones are known for their powers of exfoliating, mineralizing the skin & body, and detoxifying properties. They alkalize with over 80 minerals & trace elements while helping to relieve aches and pains. Cooled for muscle inflammation due to sports injuries, menopausal women, or hot days, these stones are used on the extremeties only (arms and legs) for maximum effectiveness.